NORTON CORE
™
A secure Wi-Fi router for your connected home
Protection for an unlimited number of connected devices, including computers and mobile devices against malware, viruses, IoT vulnerabilities

and more

Smart Parental controls. Monitor and manage screen time

by person

Control your network from anywhere with an easy-to-use app2
Includes FREE set up - a $69.99† value
Protection for an unlimited number of connected devices, including computers and mobile devices against malware, viruses, IoT vulnerabilities

and more

Smart Parental controls. Monitor and manage screen time

by person

Control your network from anywhere with an easy-to-use app2
Includes FREE set up - a $69.99† value
"A consumer router built with security in mind, the Core doesn't just connect devices — it monitors them for suspicious activity." –Mashable, 1/4/17
$199.99
$199.99
Buy Now
Free Ground Shipping
30 Day Money Back Guarantee*
Includes FREE set up - a $69.99† value
Granite Grey
Titanium Gold
"Featured in TIME Magazine's 25 Best Inventions of 2017."
TIME, 12/1/2017
"Norton Core is a powerful home router with real-time security."
CNET, 1/4/17
"A consumer router built with security in mind, the Core doesn't just connect devices — it monitors them for suspicious activity."
Mashable, 1/4/17
"It's an all-in-one device that offers both security and convenience."
Techlicious, 1/8/17
"Just as important, Core makes those features easy to manage, if you never wanted "network administrator" to be one of your household chores."
Toms Guide, 1/7/17
"Symantec doubles down on network security with Norton Core, a stylish home router."
Digital Trends, 1/4/17
Get the future of connected home security
Protection for an unlimited number of IoT devices as well as connected devices such as PCs, Macs, Smartphones and Tablets against viruses, malware, vulnerabilities & more!
Control your entire home network from anywhere with an easy-to-use app2
Smart Parental controls to monitor and manage screen time by device
Guest access feature with a separate passcode & expiry date
Plus, get FREE install & set up
assistance - a $69.99† value
50
Million
threats blocked and counting
22
Number
of threats blocked per router per day, on average
22
Devices
protected per home, on average
SEE HOW NORTON CORE STACKS UP
Norton Core provides complete home network protection including firewall & parental control. You can protect an unlimited number of IoT devices as well as an unlimited number of your connected PCs, Macs, Smartphones or Tablets against malware, viruses, IoT vulnerabilities and More!
| Standard Wi-Fi Router | Norton Core |
| --- | --- |
| | Firewall protection |
| | Helps defend against viruses, spyware, malware and other online threats. |
| | Helps safeguard identity and online transactions |
| | On the go device protection2 |
| | Comprehensive parental controls |
| | IoT device protection |
| | Network level protection |
| | Mobile-app network control |
| | Security Score |

The internet of (safe) things
Security now begins at the network level
All it takes is one compromised baby monitor or smart thermostat for cybercriminals to infiltrate your network and potentially reach your sensitive data. Core discovers smart devices, identifies vulnerabilities, and helps secures them all. If a device is breached, Core quarantines the threat.
NORTON CORE APP
Ultimate control at your fingertips
Security Score
Keep your finger on the pulse of your network. Core monitors data from your entire connected home and identifies security issues, providing timely insights.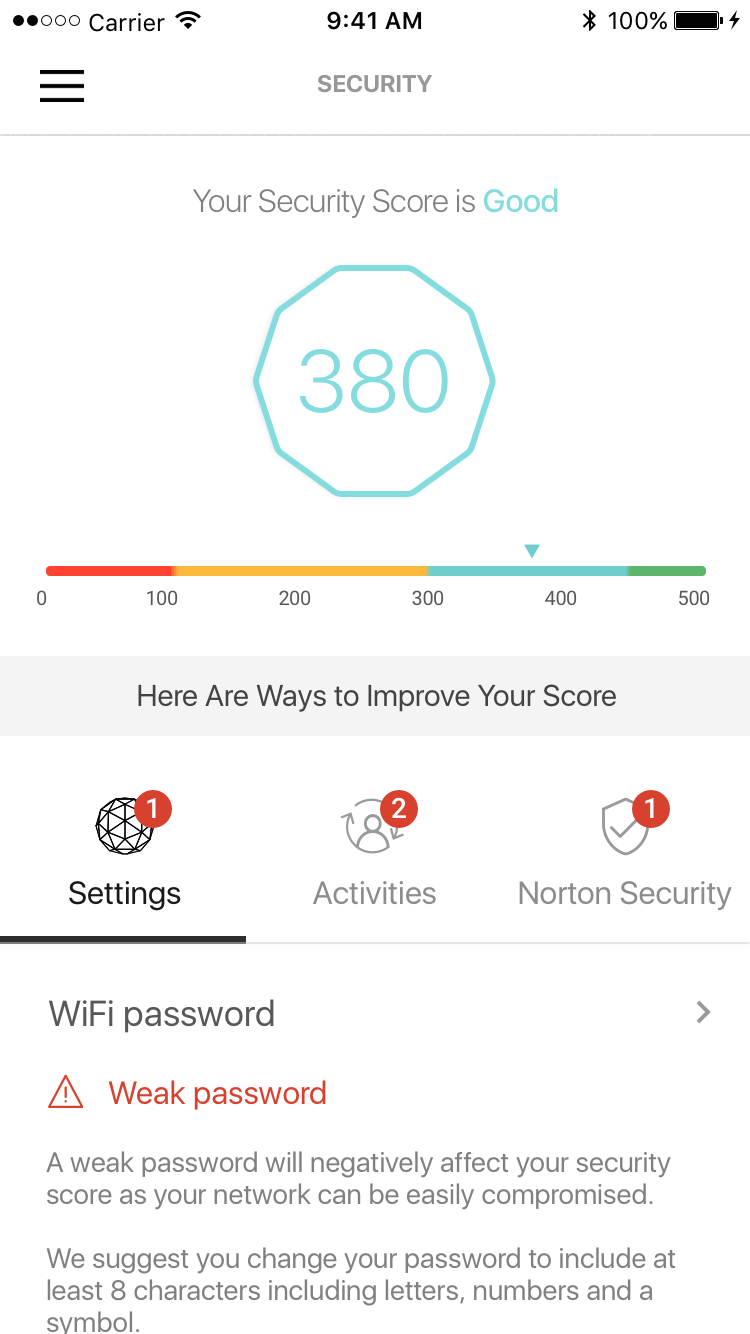 Performance
Know your bandwidth, by device and network wide.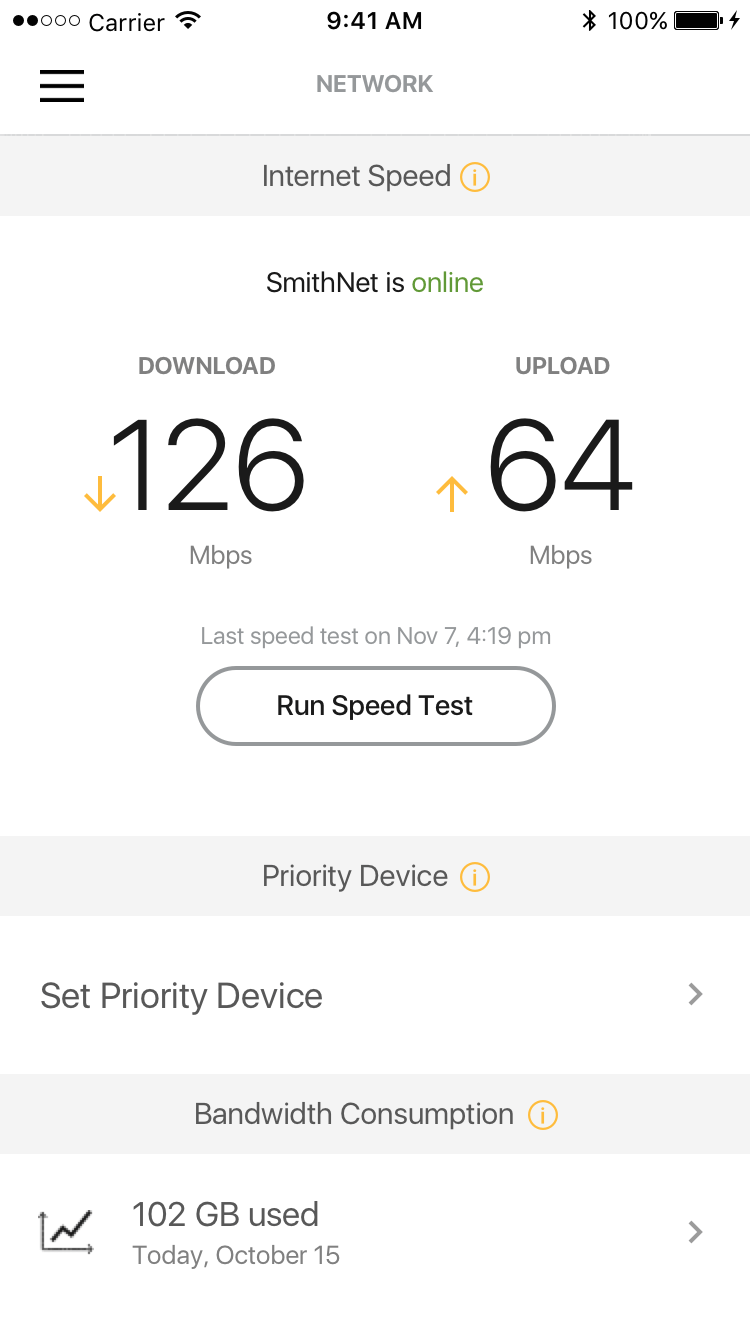 Automatic Device Discovery
Core knows things—the Internet of Things. It recognizes your connected smart devices automatically.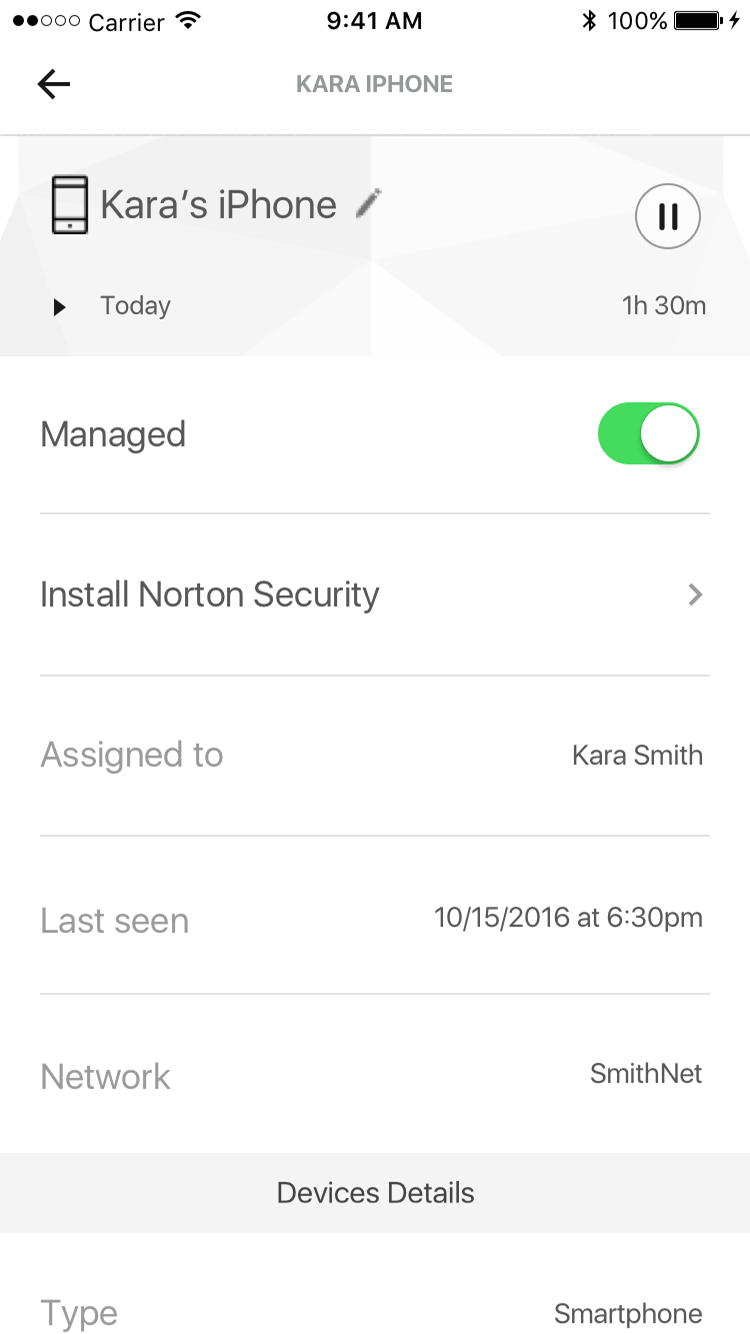 Screen-time Control
Internet time. Family time. Only you know the right balance. Monitor and manage screen time by person, control time limits by device, and set content filters.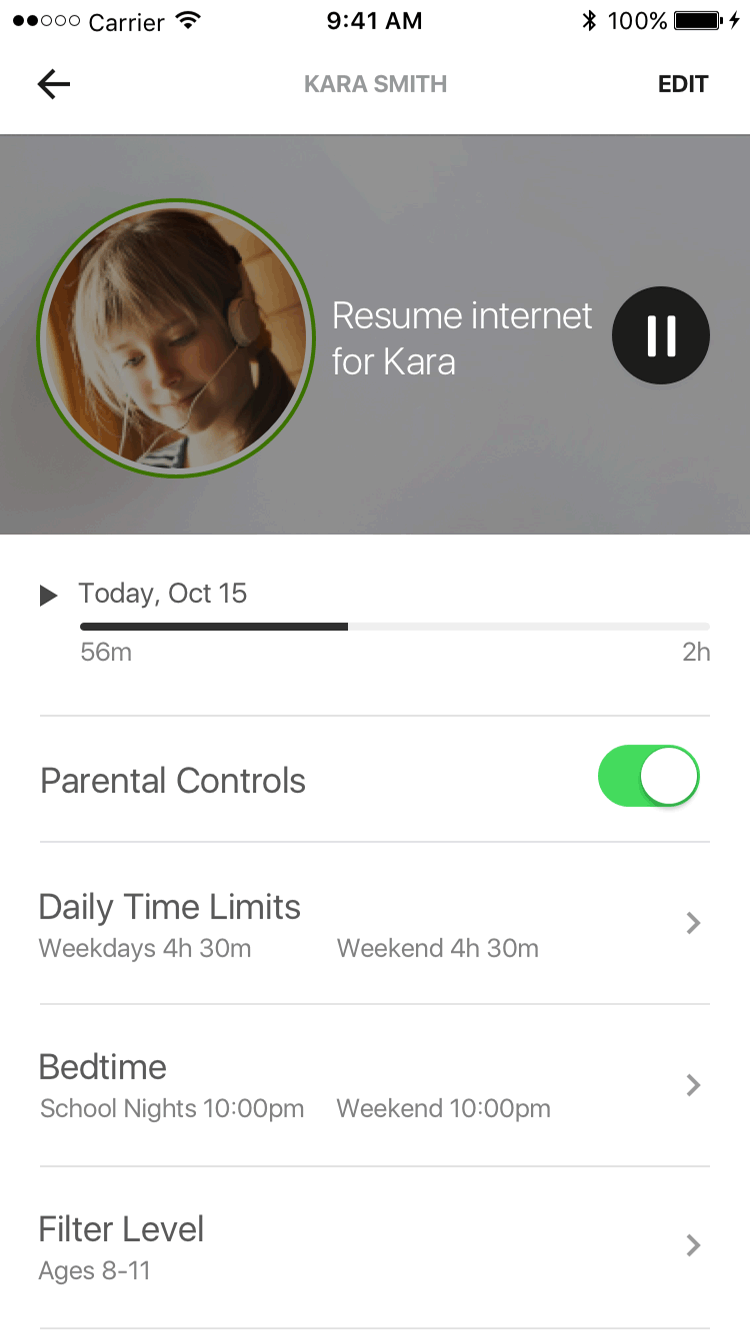 Guest Access
Create guest networks at the touch of a button.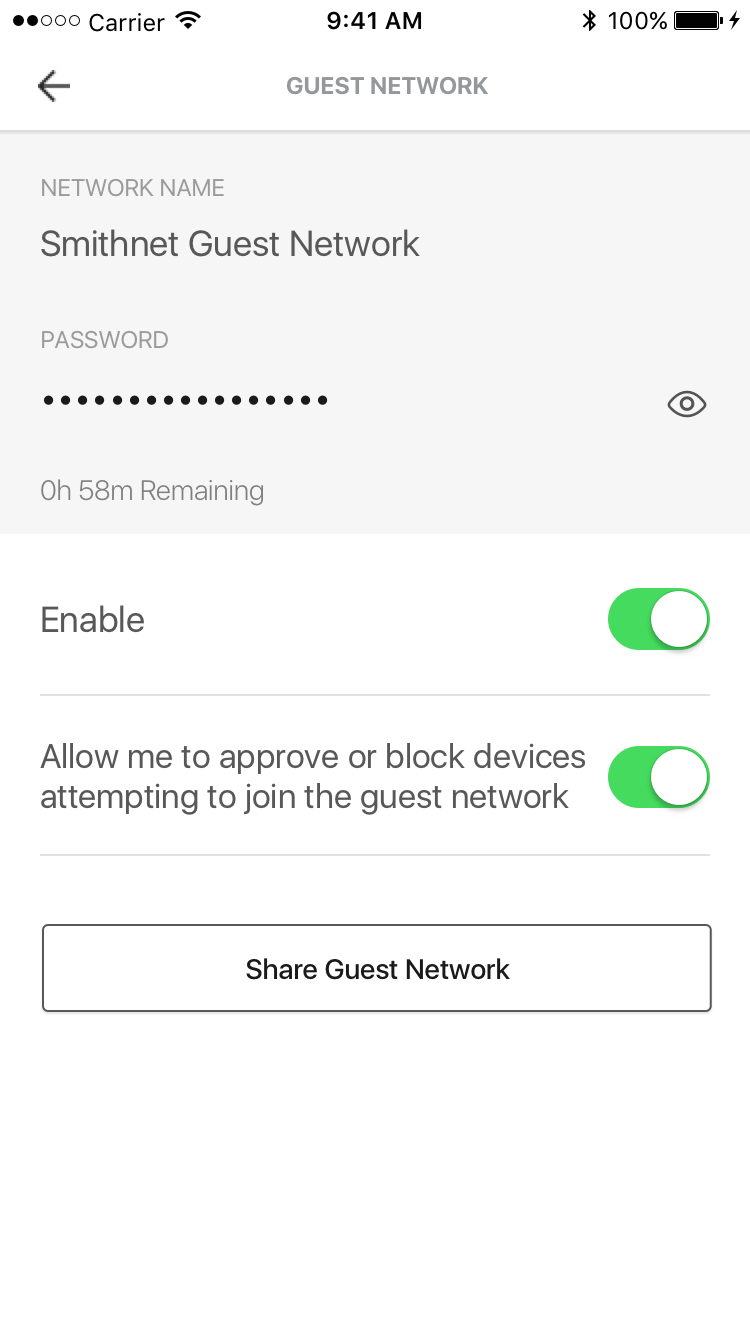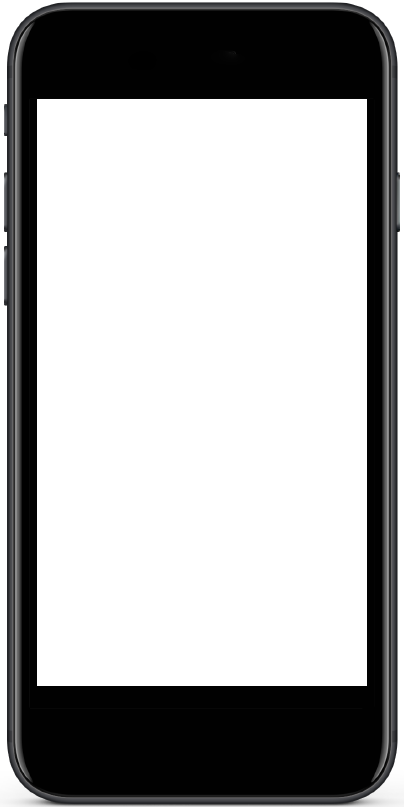 Security Score
Performance
Automatic Device Discovery
Screen-time Control
Guest Access
COMPLETE DEVICE PROTECTION
Includes a one-year complimentary subscription to Norton Core Security Plus* –
Norton Core Security for your home network and unlimited IoT protection
Norton Security Premium that you can install on unlimited number of your personal devices such as PCs, Macs, smartphones and tablets protecting against malware, viruses, hackers, and cybercriminals. It also comes with parental control software for your kid's devices while at home or on-the-go.*
Award Winning Norton Security